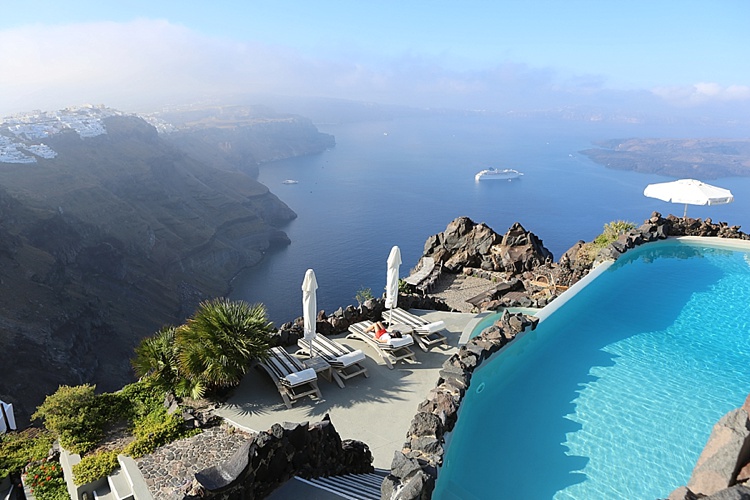 One of my greatest joys in life is being able to travel with my husband. I led a rather sheltered life and didn't really do much or go anywhere…then all of a sudden…BAM!…the past few years were filled with the greatest adventures. I've always been consumed by wanderlust but it seemed like a farfetched dream rather than reality. It all started with a short trip to Hawaii, and as soon as we got home, I started doing more research and booking trip after trip. If you've harbored a love for seeing the world but somehow always held back, my advice is this, just do it. 😉
My husband and I got married in the fall/winter and decided to save our European honeymoon for June when the weather is warmer. We did, however, had a mini-moon in Maui following our wedding and boy, it was as expensive as the Europe trip! Should have saved all that money and added a couple more countries to our European itinerary instead. 🙂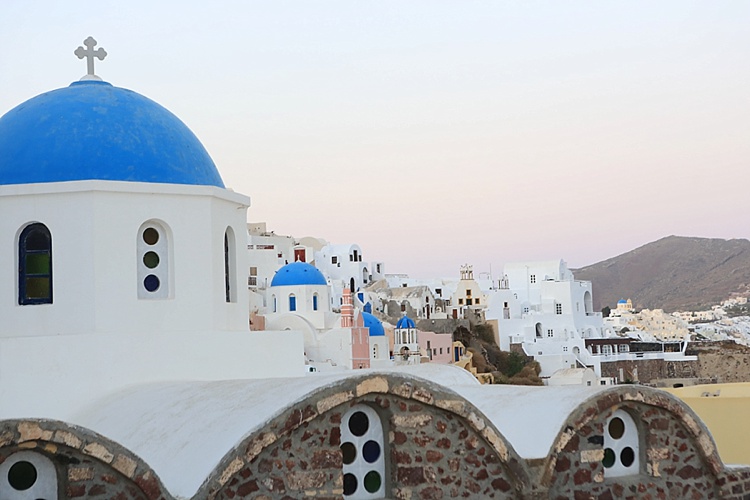 When you think of Santorini, blue dome churches are probably the first to come to mind right? We saved Santorini for our last leg of the trip and splurged for a 5-night stay at the Honeymoon Petra Villas located in Imerovigli, a small town between Oia and Fira. 1 of those nights were spent largely at the airport since high wind prevented our flight from going out. I have to admit my husband is the voice of reason and often questions my spending habits (like how much $$$ I paid for our hotel ha!), but once we arrived at Honeymoon Petra, he was in awe and loved every minute of it. So really, go ahead and splurge here because I PROMISE you won't regret it.
Here I am all bummy in my travel clothes but couldn't wait to instagram a pix of the amazing Caldera cliff view. Yes, this was right outside our door! I booked a suite in the newer wing and requested for the one with the best view. And best view is what I got!
I adore all the details around our room. The attention to little details makes me so happy!

I'm not sure how to describe our suite except that it was dome-like. It reminds me of a cave…albeit a very luxurious one haha.
Even the bathroom is amazing. Love the white, curved arches and stone details.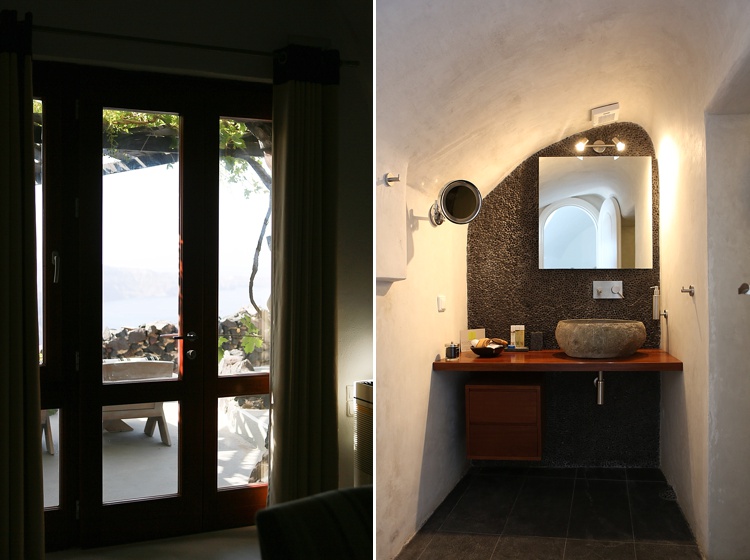 After a short nap, we made our way to Fira. Honestly, just walking about the resort already turned my legs into jelly because there were so many stairs. I know I know, I'm weak sauce.
Look at that infinity pool and the 360° panorama view! We ate breakfast every morning at one of those tables while taking in the beautiful colors of the Aegean sea. Talk about paradise. This is by far the nicest hotel we've ever stayed at. Oh and these pictures are not edited so what you see is what you get, Santorini is really this beautiful!
The walk to Fira took us about 25 minutes (most of it was easy except for a few steeped areas). I was so tempted to buy a bunch of stuff but didn't since we travel light. I always bring a carry-on suitcase, even for a 2.5-week vacation.
Whenever I go to a Greek restaurant in the States, the first items on my order list are pita bread and tzatziki sauce. Guess what, they were so rare in Santorini. Must be a difference between regions since we found plenty of pita bread (and the best gyros) in Athens. I didn't research for restaurants so much of what we ate were good but not memorable. Funny thing is, my best memories of Santorini food include warm bread and sweet tomatoes. Seriously I hate tomatoes and I ate a few of those every day.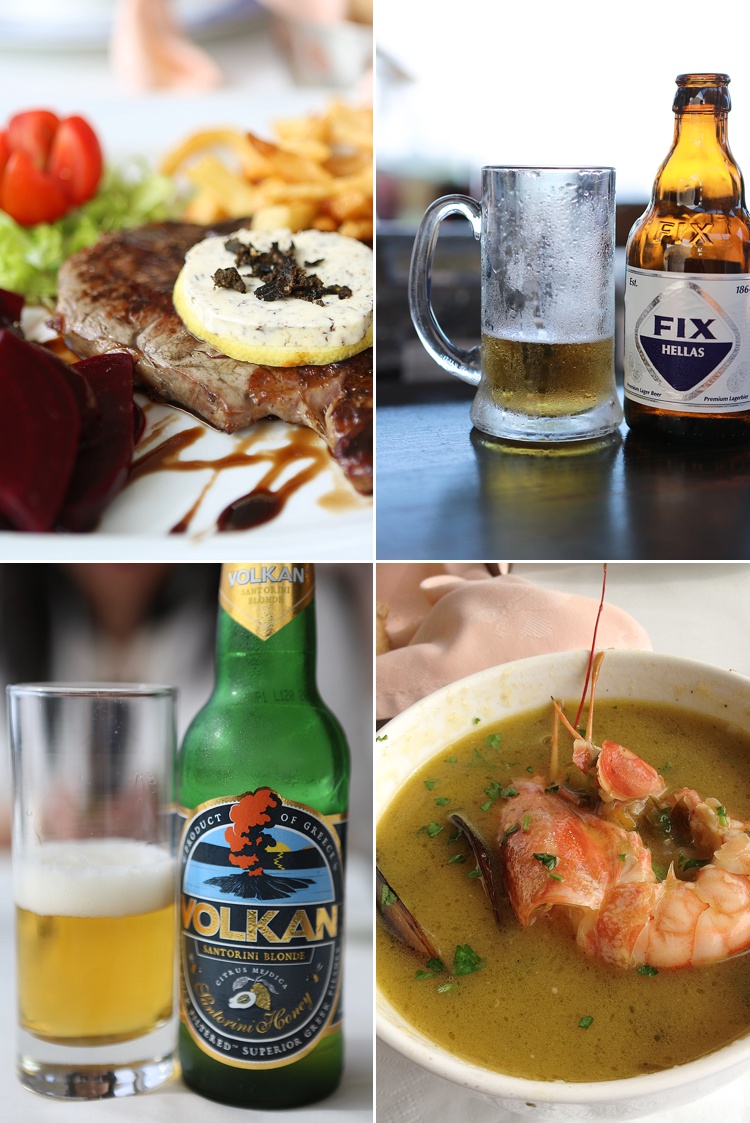 Honeymoon Petra is a family-owned hotel and we met and chatted with the owner several times. The main staff are also family members and they were all so nice and accommodating. When we asked them for recommendation of things to do, they said many guests love the 9-mile hike to Oia to catch the sunset. When I heard 9-mile hike, I almost fainted haha. Although I love walking, I do not like the idea of treacherous and rocky roads. And did I mention it was 9 miles? They said the view on the way to Oia alone is worth it and somehow I was convinced. Not only did I make it without dying, I actually enjoyed it very much!
There's no doubt the sunset in Oia is beautiful, but what I didn't prepare for was the sheer amount of people who had the same goal we did in mind. Every nooks and crannies were filled with people to the point where it was difficult to move around. So no, it wasn't exactly romance in my book. We were like sardines on top of each other. 😀 If you happen to stay at a hotel with a sweeping view, I suggest enjoying the sunset there instead of camping out on the streets of Oia. I still recommend that hike though!
Our hotel also owns a sailing center and we spent a day on board visiting the volcano and swimming in the hot springs. I knew I was kinda seasick before this, but I did not know how bad it was. It may look like I'm sunbathing here, but really, I was out like a dead fish. The captain, who's the owner's son, made a scrumptious bbq lunch below deck and I ventured down for a minute before having to run back up before I hurl. Several of my friends and families have tried to convince me to go on a cruise with them, but I will NEVER put myself on a boat/ship/anything that moves on water again. 😛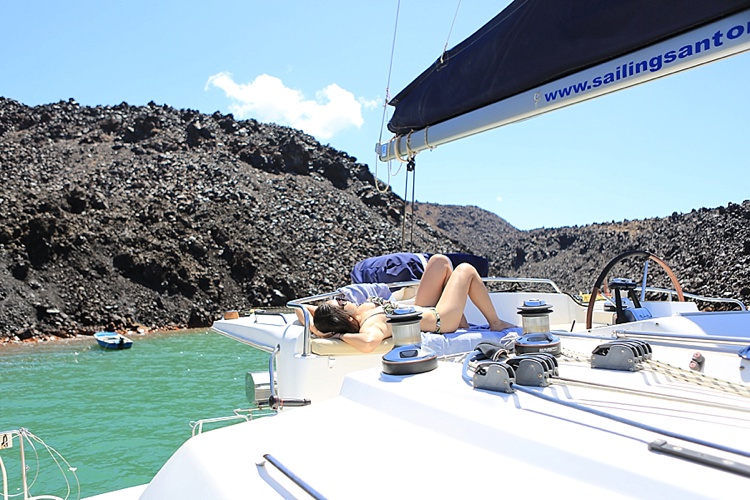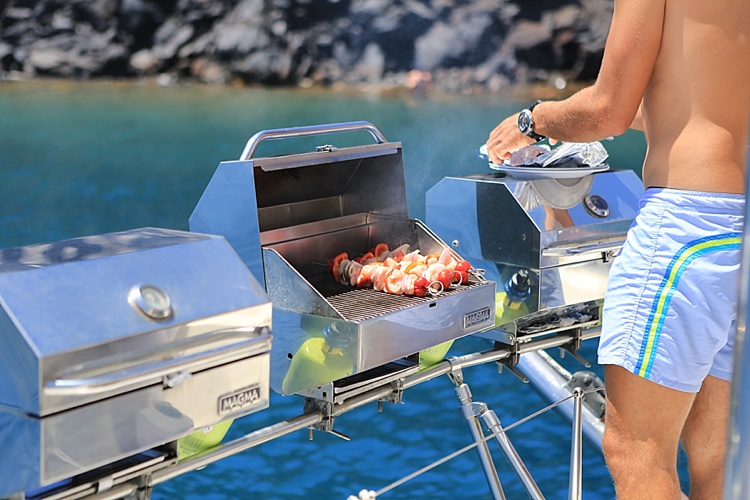 We returned to watch the sunset from our hotel and it was breathtaking. And it was just the two of us.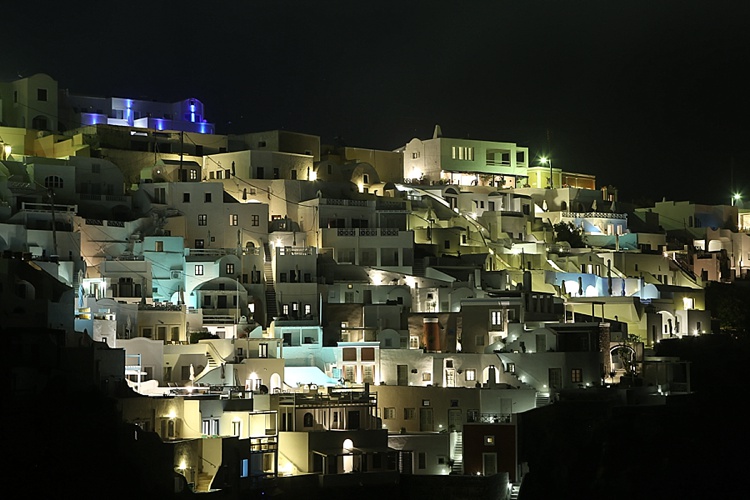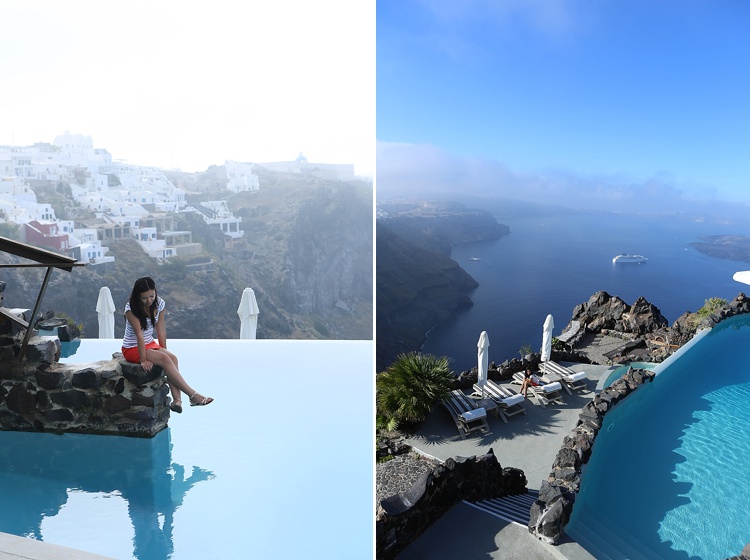 We spent our last morning at the Honeymoon Petra eating breakfast in this little nook before having to say goodbye.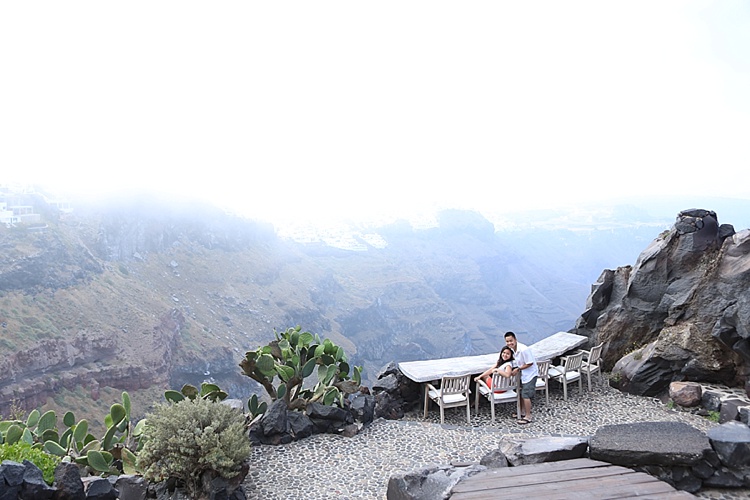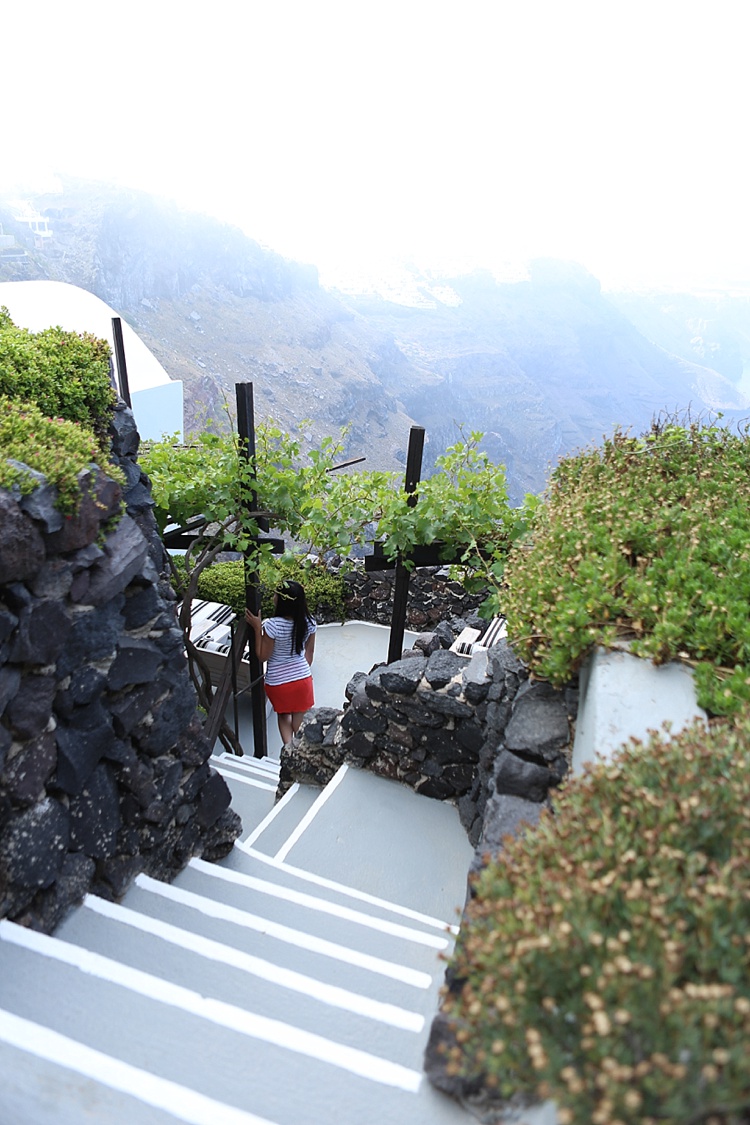 Oh Santorini, I've missed you every single day and hope we'll meet again. Well, we'll definitely meet again. 😉